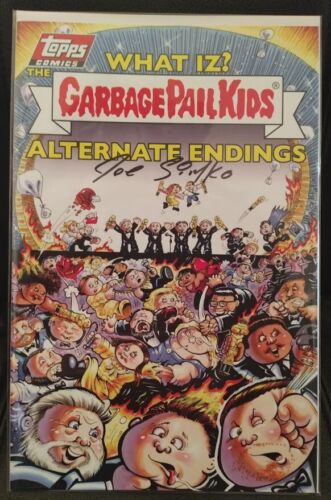 Price: 225.00 USD
Garbage Pail Kids:
What Iz? Garbage Pail Kids Comic Book Topps LE/204 SIGNED By Artist Joe Simko




What Iz? Garbage Pail Kids Comic Book Topps LE/204 SIGNED By Artist Joe Simko
What Iz? Alternate Ending
GPK
Garbage Pail Kids Comic Book
Topps
SIGNED by Joe Simko
Super Rare Item!
The What Iz? Alternate Ending comic book / card bundle was sold as a limited release in 2017, available to purchase for only 1 week exclusively through
Topps
. The comics and card were 'print on demand', meaning they only printed up the number of sets they sold, which for this bundle was 204!  We purchased a few sets when
Topps
offered these for sale. Each comic book came with 2 cards. We recently did a private signing with
Topps
artist Joe Simko and had him sign our copies of the comics and cards.   At the time, he told us that our copies were the only ones that he had ever signed so far. 
This is a very unique item and a must have for any hardcore
GPK
collector.
You will only recieve the exact comic book in the photos. The cards are not included.   
Joe is a very rare signer and with the cancellation of conventions, he has not made any public appearances in a while. Over the past few years, we have done several private signings with Joe Simko. In 2015, we offered customers a limited edition of 100 Adam Bomb 9″ Funko figure signed by Joe Simko with a doodle. A year later, we offered the "Donald Dumpty" figures signed by Joe. Most recently, we had him sign a collection of political cards and comics that were released since we last saw him.
Kool Toys & Games 
I have met 1000's of celebrities while obtaining and collecting autographs over the last 25 years. Most of the autographs I sell were obtained by me, in my presence and are all guaranteed to be authentic hand signed items. I've organized 30+ of my own private
autograph
signings with talent such as Ralph Macchio (The Karate Kid / Cobra Kai), Chazz Palminteri (A Bronx Tale), Lorraine Bracco (Goodfellas / Sopranos), Paul Sorvino (Goodfellas), Linda Blair (The Exorcist), Henry Winkler (Happy Days), Costas Mandylor (SAW), Jeremy Bulloch (Boba Fett), Michael Carter (Bib Fortuna), Paul Blake (Greedo) Garrick Hagon (Biggs), Peter Mayhew (Chewbacca) and Steve Blum (Zeb). 
Listing and template services provided by inkFrog