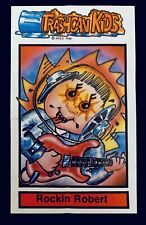 Price: 50.00 USD
Garbage Pail Kids:
RARE 1986 AFCO Trash Can Kids ROCKIN ROBERT Vending Card like GARBAGE PAIL KIDS




33 YEARS OLD Obscure Trash Can Kids Vending Sticker Card 3" x 5" by A.F.C.O, a novelty sticker company from the 80's that made stickers to be dispensed in vending machines like Pizza Hut, for example, used to carry.
GARBAGE ARCHIVE Presents:
Typical creases in sticker were the sticker was folded and put inside a vending capsule.
"Rocking Robert" features a boy with a demented expression while he plays an electric guitar, notice his headphone band is under his chin and not over his head, pretty cool detail, gives it some surprising gravitas -the art quality is very bootleg and amateur which is pretty damn charming, a far cry from John Pound's masterclass art skills in the Topps Garbage Pail Kids sticker card series. If you like bootleg GPK, Fan Sets, Foreign, and obscure 80's grossness then this is MUST HAVE!
Condition is Fair, since these always have creases where they were originally folded up in the machine. Little wear besides that, it seems this sticker was stored correctly.
We currently have 3 other Trash Can Kids available in other listings-check then our!
Shipped with USPS First Class Package. Check out our other listings! What will you score next from GARBAGE ARCHIVE?!