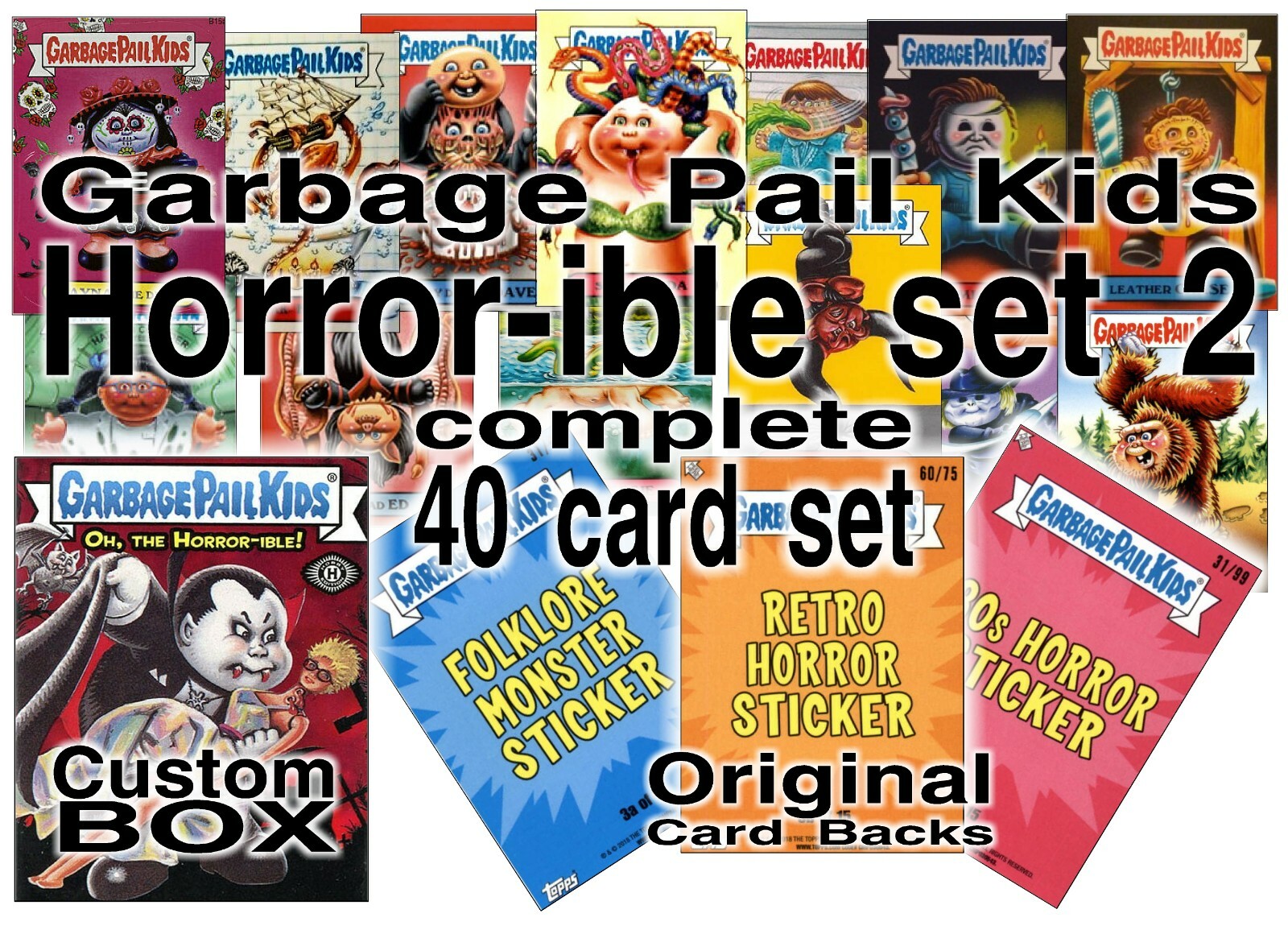 Price: 24.95 USD
Garbage Pail Kids:
Miniature 1:4 scale orig. Garbage Pail Kids HORROR-IBLE 2 Halloween cards & box
Ultimate Garbage Pail Kids Collectible!
Awesome 1:4 scale original Garbage Pail Kids complete Halloween Horror-ible collectible Card set #2 with Box.  Set includes 40 original cards with custom box in miniature form.  Cards are printed on both front and back sides in vibrant full color, just like the originals.  Cards are crafted from photo quality cardstock.  Boxes are crafted from high gloss thick paper stock and features original full color graphics on front, back and all sides.  All sets were completely designed and handcrafted by a local miniature artist.  Cards measure approx. 1″ wide X 1-1/2″ tall(see pictures for scale next to a penny).  Please review photos carefully, they represent the exact items you will receive, pictures show typical front, back and sides.  Graphics may not match exactly to the original, some graphics have been changed from the original for esthetic reasons).  Any questions, please contact me before purchasing.
I will gladly consider reasonable offers on multiple item purchases!
Custom orders accepted.
All 15 standard editions are available plus many other collectible card sets
check out my store!
Other available sets include:
Garbage Pail Kids series 1-15
Garbage Pail Kids Horror-ible sets (2 different)
Garbage Pail Kids Dis-grace for the White House (3 different)
Whacky Packages series 1-17
Cereal Killers master set
Lost In Space original series 1 set
Star Trek TOS autograph card set (3 different)
Addams Family original series 1 set
1953 Topps Baseball card set