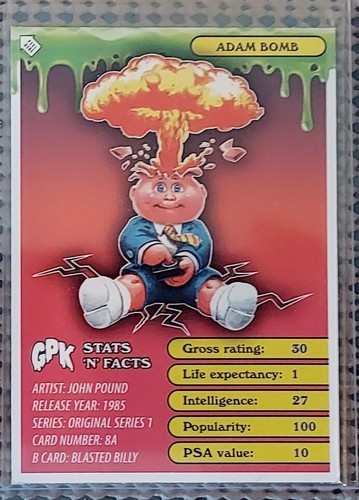 Price: 129.99 USD
Garbage Pail Kids:
GPK PLOP DUMPS UK Fan Set – FOREIGN VERY RARE GARBAGE PAIL KIDS (ADAM BOMB) RARE




SINGLE ONE (1) CARD ONLY:
GARBAGE PAIL KIDS PLOP DUMPS UK Fan Set card — SUPER CUSTOM Each has artist details + stats!!!
See pics for included characters (listed below):
The card is in a plastic sleeve and Top Loader for easy & safe handling.
Condition is MINT (PACK FRESH) – VERY nicely centered and with sharp corners, please let me know if there are any questions (see pictures).
Garbage Pail Kids are also known as Les Crados, Sgorbions, Gang do lixo, Basuritas, La Pandilla basura, Garbage Gang, Garbage Pail Kids, Die total Kaputten Kids, and Bukimi Kun.
RARE HARD TO FIND FOREIGN NON-SPORTS COLLECTIBLE FAN SET