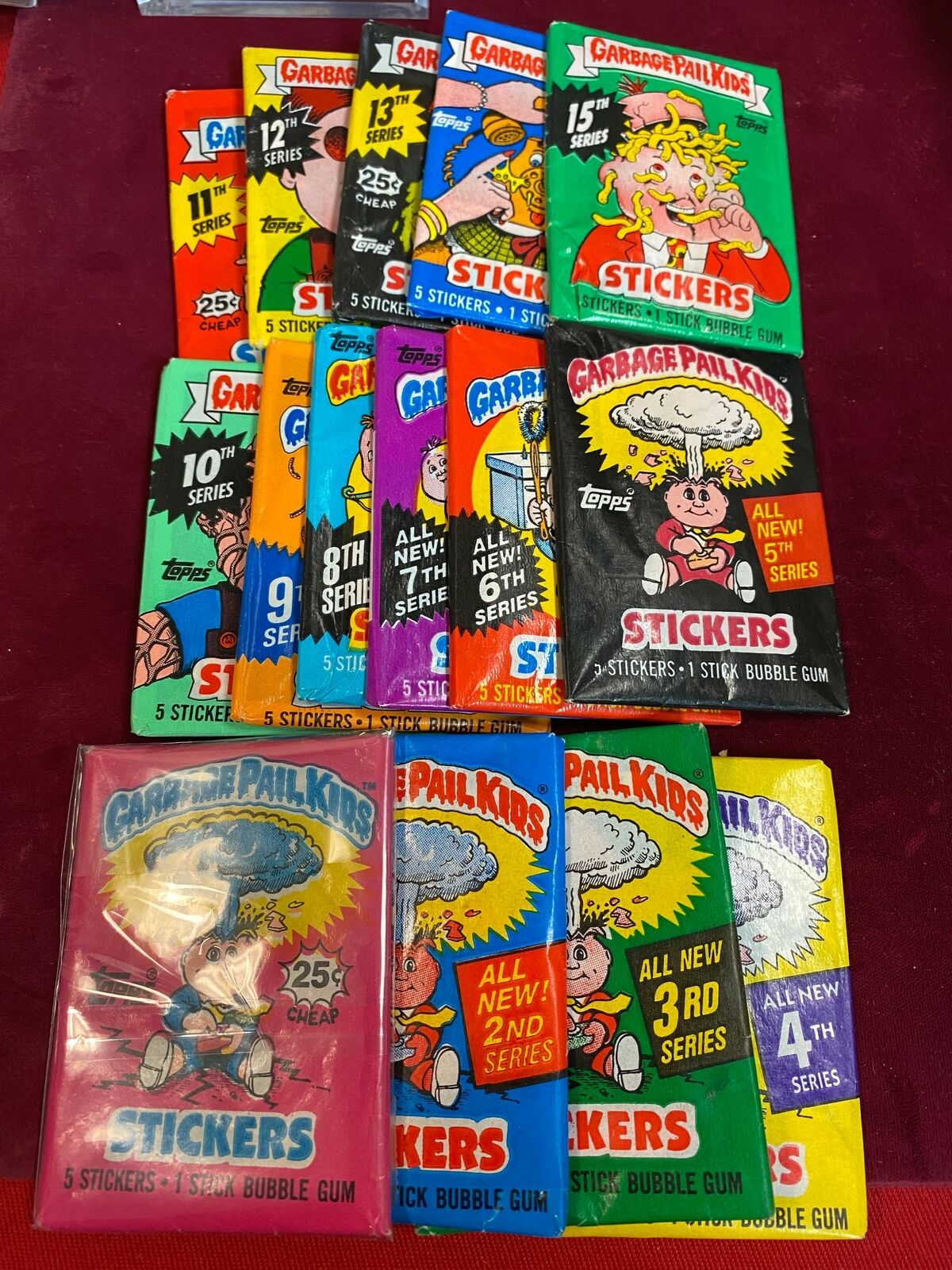 Price: 595.00 USD
Garbage Pail Kids:
Garbage Pail Kids Original Series 1-15 Complete Run Unopened Packs x 15 ~SC2A
Click Here to view our Auction Listings
FAQ: ="3″>
When will my order ship? All Orders ship within 1 business day of payment="3″>
Can I get my item expedited? Yes just ask for options prior to payment and we can send you an invoice for the service you need. We typically use US Mail, but offer priority mailing, fedex or UPS mailing if desired. ="3″>
Can I track my package? Yes — all orders shipped first class mail or higher are shipped with tracking and you can follow your order on its way to you. Tracking is posted back to your ebay purchase.  In the event you use ebay standard shipping please note tracking is spotty and inconsistent at best.  
Can I get a cheaper shipping option like a plain white envelope? Unfortunately no, to maintain our seller status with ebay, we have to ship with tracking. If cost is an issue you should be able to find multiple items in our inventory to reduce shipping costs.
Tell me about your grading standards? We use the Beckett and PSA industry standards. The "NRMT/MT or better" in our item description is our grade for any card that is fresh from a pack and is a our guarantee of a BGS or PSA 8 or better. Our VG will be a PSA 3, VG-EX = PSA 4 or BGS 4, EX = PSA 5 quality. Please reference the grading scale for either of those companies to know the quality of the card you will be receiving="3″>
If the card you are selling is not graded, is there something wrong? No — please see our feedback for tens of thousands of cards sold as NRMT/MT that have received MINT PSA 9 and 10 grades on submission. Current turnaround times at PSA and BGS make it more difficult to tie up inventory for 12+ months, We are starting to use HGA and SGC to some degree. And think both companies offer upside in their return times, and quality of grading.  
Do you have items not listed? Yes – we probably have over 8 million different cards and can often find cards you need for your collection. Just ask.
Do you purchase cards? Every day our inventory changes as we buy and sell. Contact us and let us know what you have for sell. 
SHIPPING TERMS:
Ungraded Single Cards:
US P/H is 3.99 for insured bubble mailer with delivery confirmation
Additional single, ungraded cards ship free
If multiple items are won, the most costly shipping fee applies.
International Airmail is $12.95
Graded Single Cards (PSA/BGS/SGC):
US P/H is 3.99
Additional cards ship at .50 per upto 8.99 max
If multiple items are won, the most costly shipping fee applies.
International Airmail is $14.95 (0.50 per additional item)
General:
High ticket cards may require special shipping or offer additional options, Please click on the shipping tab to identify the options and prices to your location.
We ship orders within 1 business days of payment based on when payment is made.
Some items will only be available to International bidders through Ebay's Global Shipping Program due to weight or value
Please NOTE: — WE DO NOT falsify customs documents. Any international packages will have a declared value of the winning bid price.
Some restrictions apply on international orders — please see our me page
Some countries currently have COVID restrictions and are delaying or even denying packages from the US.  Please check with your countries postal system.