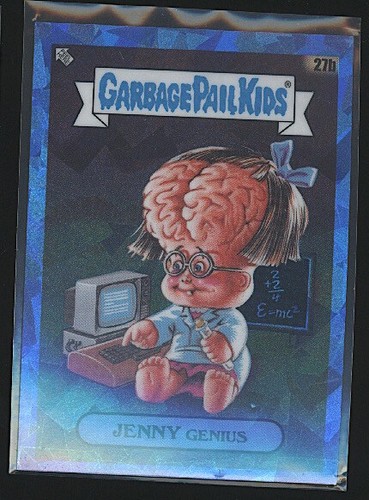 Price: 3.50 USD
Garbage Pail Kids:
2020 Topps Chrome Garbage Pail Kids Sapphire JENNY GENIUS 27b




2020 Topps Chrome Garbage Pail Kids Sapphire JENNY GENIUS 27b

GameChanger Sports Cards offers
free combined shipping
on single cards & small lots!
This listing is for the cards pictured and noted in the title. Please look closely at the image for details.  
Condition: Card is in mint/near mint+ condition or better. (Any cards listed that are professionally graded are in the condition indicated on the slab.) See photo for details. (Please note, any card that has been photographed in a protective holder may show scratches/marks in the picture. This is on the holder and not the card itself.)
See more of our eBay store and auctions!
Shipping Information
> Domestic shipping (all 50 states) for this item is $3.99 (USPS). Each additional single item or small card lot won also has free shipping.
> International shipping is $14.00 (USPS). Add $5.00 for each additional item won.
Frequently Asked Questions
Q: Do you combine shipping? 
A: Yes. For sports cards, we offer free combined shipping after the first item won for all domestic purchases. We offer $.50 for each additional card for all international purchases. Non-card transactions may have different guidelines. See shipping information for details. Please note, we will combine shipping based on the highest advertised price amongst items won. 
Q: Do you provide any other promotional discounts? 
A: GameChanger Sports Cards offers FREE SHIPPING on all sports cards orders over $100. (Promotion may not apply to large lots, sets, unopened wax, or others that may necessitate expensive shipping cost.)
Q: I've purchased multiple items. Why is my invoice not reflecting the free shipping discount? 
A: Occasionally, multiple items will improperly reflect the discount. If that occurs, simply request an updated invoice and one will be sent (typically within 12 hours of purchase). 

Q: How is my order packaged? 
A: All cards are sent in a toploader, team bag, and bubble mailer. We currently do not offer shipping via plain white envelope. In the event of a multiple item purchase, we often topload the outside cards and will ship the inner cards in a penny sleeve. We do this in order to save on total shipping cost, which allows us to confidently offer our second-to-none combined shipping rates.
Q: How and when will I receive a tracking number? 
A: We typically upload tracking information within a day of your purchase. We pride ourselves on shipping QUICKLY. If you don't see tracking either emailed to you or linked through PayPal and eBay to your purchase within one business day, please let us know. 
Q: What do I do if my order is incorrect, damaged, or incomplete? 
A: At GameChanger, we do our best to provide 100 percent accuracy with every order. However, there will be rare instances where a card is missing in a multi-item order, a purchase is incorrectly shipped, or an item arrives damaged. When this occurs, PLEASE send us a message and we will work quickly to provide a solution for you. 
Trust our feedback and buy with confidence. Thanks for visiting GameChanger Sports Cards!