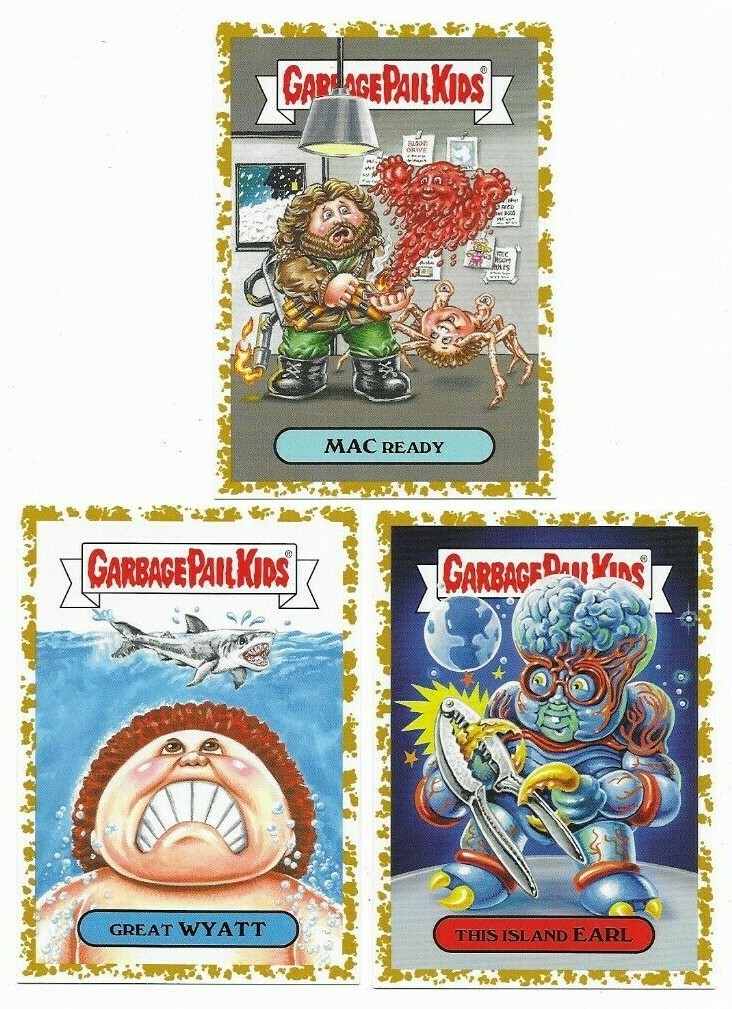 Price: 59.70 USD
Garbage Pail Kids:
2018 Garbage Pail Kids Horror-ible lot of 3 GOLD parallels each stamped ??/50




2018 Garbage Pail Kids Oh the Horror-ible "hit" in title and pic.  All the cards were pulled right out of the packs and got ready for shipping.  Check my feedback and bid with confidence.
You get: 
   '80s Sci-Fi 9a Mac Ready 10/50
   Retro Horror 8a Great Wyatt 26/50
   Retro Sci-Fi 6a This Island Earl 09/50
Shipping info:
FREE SHIPPING FOR US ONLY!!!
All international shipping:  is 25.00 priority shipping.  There is no extra charge for other auctions won as long as it all fits in a priority envelope. (please not that most charge 1.00 or more for each item extra you buy,  they are all included and you will get them faster).   All International orders over 250.00 must have a signature and have to be sent express mail for 38.00.  Same is true for these orders that I will put as many order in that will fit for no extra charge.
Customs are the responsibility of the bidder/winner and in no shape included in the shipping quote.
Payment is due by 7 days after auctions end and will be sent as nonpayment after that. 
Payment is by paypal only.
Please feel free to email me with any questions.
Please check my feedback and bid with confidence. 
Feedback is left after payment is made.  Please leave feedback when items arrive.  Also when filling out the 4 categories that shipping price includes the supplies I use.
Shipping time is 2 to 3 days after payment.  I use paypal for my shipping and you will get an email with confirmation # when item is shipped.
Thanks for looking.