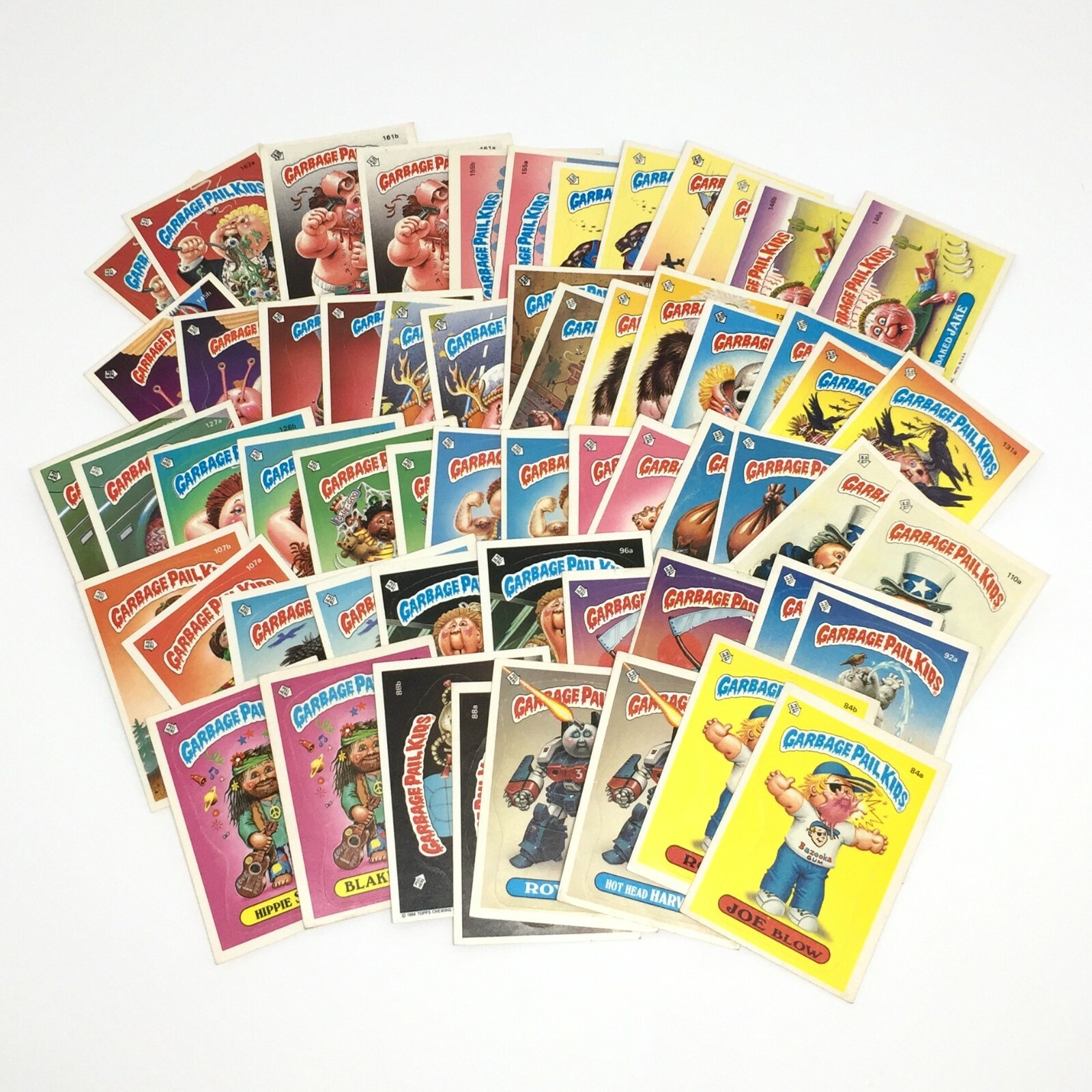 Price: 4.25 USD
Garbage Pail Kids:
1986 Topps Garbage Pail Kids Original Series 3 & 4 a/b Card Bundles – You Pick!
IMPORTANT!
You are buying the card or cards that you select from the drop down menu!
Buy two or more cards & receive 5% off each card!  
If you're purchasing more than one card, just add each card to your cart prior to checking out.  When you're ready to check out, the 5% off each card discount & combined shipping will automatically be applied for you!
Shipping via USPS First Class with a flat rate of $3.75 for a single card or multiple cards with combined shipping!
Be advised, delays within the USPS network may occur in some locations at this time.  As you know, I cannot & will not be held responsible for any delays, if any, as that falls solely upon USPS at this time.
Listed & Sold AS IS,
1986 Topps Garbage Pail Kids Original Series 3 & 4 a/b card bundles.  100% original & authentic.  By that I mean, I'm the original & only owner, pulled from packs upon initial release.
Pre-owned & ungraded.  Not in mint/near mint condition, but in fair to acceptable condition.  Condition varies from card to card, but all cards are intact with no tears or rips.  All cards have some form of edge, corner, and surface wear.  A few cards have major creases on them and those are the cards listed at $1.50.  Each card is in a soft penny sleeve which is included when shipped.
And now for the master list of cards with any variations:
Things to know:  NC = No Copyright Print, C = Copyright Print, *C = 1 Star Copyright Print, **C = 2 Star Copyright Print
1986 GPK Original Series 3 a/b Cards:
84a Joe Blow – Wanted: Barber back, **C
84b Rod Wad – Wanted: Principle back, **C
87a Hot Head Harvey – NC
87b Roy Bot – NC
88a Dinah Saur – NC
88b Farrah Fossil – C
91a Blake Flake – *C
91b Hippie Skippy – **C
92a Marvin Gardens – NC
92b Spitin' Spencer – NC
95a Grim Jim – NC
95b Beth Death – NC
96a Distorted Dot – *C
96b Mirror Imogene – **C
99a Beaky Becky – **C
99b Picky Mickey – *C
107a Totem Paula – C
107b Tatum Pole – NC
110a Snooty Sam – Wanted: Teacher back, **C
110b U.S. Arnie – Wanted: Big Sister back, **C
113a Alice Island – Wanted: Barber back, *C
113b Liberty Libby – Wanted: Barber back, **C
114a Starin' Darren – C, **C
114b Peepin' Tom – C, **C
118a Half-Nelson – **C
118b Glandular Angela – *C
123a Glooey Gabe – NC
123b Sticky Rick – NC
1986 GPK Original Series 4 a/b Cards:
126a Armpit Brit
126b Shaggy Aggie
127a Travelin' Travis
127b Flat Tyler
131a Stuffed Stephen
131b Rutherford B. Hay
132a Bony Tony – **C
132b Unzipped Zack – **C
133a Furry Murray
133b Foxy Francis
134a Hip Kip
134b Walt Witless
142a – Bruce Moose – **C
142b – Hunted Hunter – **C
143a Melba Toast
143b Hy Rye
145a Dale Snail – **C
145b Crushed Shelly – **C
146a Baked Jake
146b Dry Guy
151a Losing Faith
151b Dyin' Dinah
154a Basket Casey
154b Dribblin' Derek
155a Spikey Mikey
155b Nailed Neil
161a Shorned Sean – **C
161b Hy Gene – **C
162a Yicchy Mickey
162b Barfin' Bart
View the photos provided for any particular card of interest to get an idea on condition.  Click the photos to enlarge or use the "hover to zoom" feature.  Sometimes eBay reduces the thumbnail photo quality for no reason, but clicking a photo to enlarge will show the higher resolution photo.  If you have any questions at all prior to committing to a purchase, make sure to send me a message as I'm very responsive.  All sales are final & I'm not responsible for buyer negligence!
I have a ton of other cards listed at the moment, including more Original Series Garbage Pail Kids Cards, Marvel Masterpieces, Fleer Ultra X-Men, 1991 Impel G.I. Joe's, and Sports cards.  If interested in any others, I can provide combined shipping.  Just give me time to send an updated combined shipping invoice before payment is made.
Buy with confidence & check the feedback!  I do not buy to resell, I'm not an eBay store or business seller.  Items within all of my listings are items I own & am the original & only owner of upon initial release!
As always, thanks for stopping by & looking!